The year in brief
Earnings before interest and taxes (EBIT) were increased substantially from CHF 113 million to CHF 137 million even though net sales declined to CHF 1,744 million (CHF 1,781 million).
 
Civil business accounted for 55 % of net sales, while the foreign component of sales came to 62 %. All five divisions operated profitably and contributed to the positive Group result.
 
The Federal Department of Defence, Civil Protection and Sport (DDPS) remains RUAG's largest and most important single customer; its share of sales rose in 2015 from 30 % to 32 %.
 
Outlays for research and development rose to a total of CHF 146 million (CHF 140 million). This corresponds to the target figure of around 8 % of total sales. The Group's total headcount increased slightly to 8,163 as at 31 December 2015 (8,114).
Overview of key figures
| in CHF million | 2015 | 2014 | Change |
| --- | --- | --- | --- |
| Net sales | 1744 | 1781 | -2.1% |
| Operating income | 1758 | 1759 | -0.1% |
| Earnings before interest, taxes, depreciation and amortization (EBITDA) | 217 | 192 | 12.9% |
| Earnings before interest and taxes (EBIT) | 137 | 113 | 20.6% |
| Net profit | 117 | 84 | 38.8% |
| Cash flow from operating activities | 145 | 135 | 7.0% |
| Free cash flow | 64 | 57 | 12.6% |
| Net financial position | 231 | 195 | 18.5% |
| Order inflow | 1828 | 1785 | 2.4% |
| Order backlog | 1378 | 1370 | 0.6% |
| Research and development expenses | 146 | 140 | 4.3% |
| Employees as at 31 December incl. apprentices | 8163 | 8114 | 0.6% |
Outlook
RUAG will have to deal with unexpected challenges in future as well. The currency situation, the world economy or developments in government spending can be subjected to unanticipated changes of direction time and again. For example, among other things the international security situation has changed radically in the last few months. The conflicts in Yemen and Ukraine have blocked exports to entire market regions for RUAG. On the other hand, the changes may also lead to various states once again beefing up their defence and security budgets, which had been substantially reduced in recent times.
For us, these uncertainties mean that we will need to further diversify our markets in geographical terms. The US market and the Asia-Pacific region, in particular, offer a substantial number of growth opportunities. For exports out of Switzerland, the strong Swiss franc will remain a challenge at least in the medium term. On the one hand that means we will need to invest in further efficiency enhancements at our production sites. On the other, however, we also need to strengthen our global activities so that we can respond as flexibly and effectively as possible to changes. This also includes carefully examining the possibility of targeted acquisitions.
Success Stories
Satellite navigation – down to the last centimetre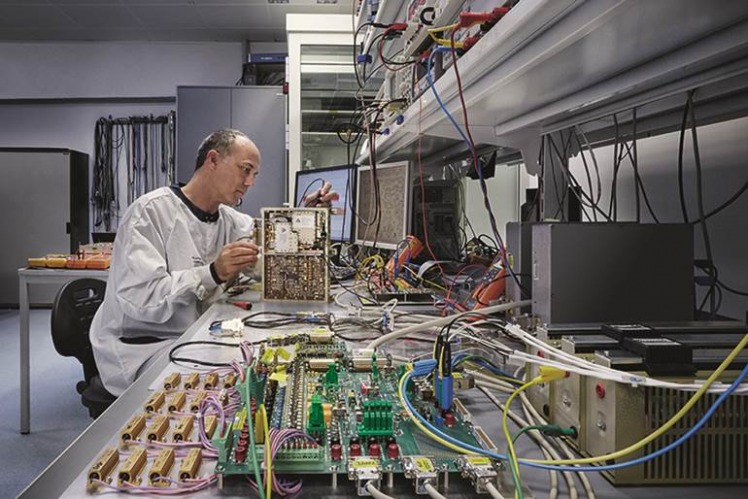 Satellite navigation – down to the last centimetre
PODRIX – Precise Orbit Determination Receiver
The more accurately the position of a satellite can be determined, the more accurate the data it can deliver. With PODRIX, the Precise Orbit Determination Receiver, RUAG Space is developing the latest generation of space navigation devices. In combination with subsequent calculations, these devices can pinpoint satellite positions to the nearest centimetre and are thus making it possible for us to observe our planet in even more exact detail. This accuracy is all the more astonishing given that satellites circle the earth at a height of many hundred kilometres and a speed of up to 25,000 km/hour. Among other things, PODRIX combines position data from American GPS satellites with data from the European Galileo system for its exact real-time navigation.
Sophisticated fighter aircraft components in large volumes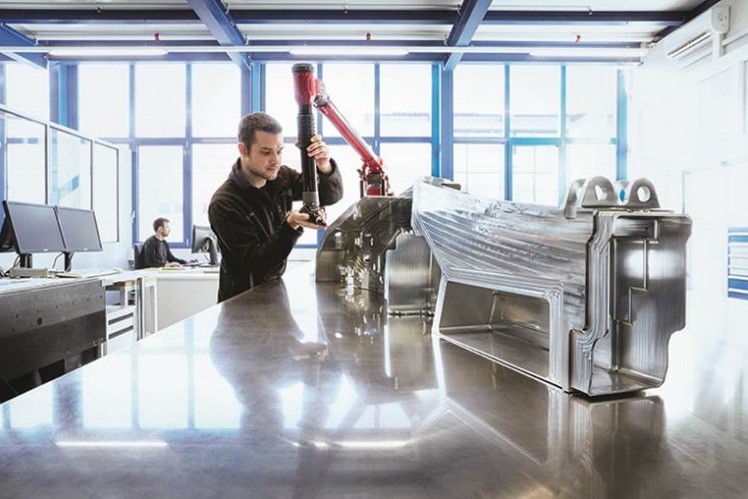 Sophisticated fighter aircraft components in large volumes
Pylons for SAAB Gripen E/F
Swedish defence and security company Saab has awarded the contract for series production of all payload mountings for the Gripen E/F fighter aircraft to RUAG Aerostructures. Saab had already given RUAG the responsibility for developing and producing the prototypes for these so-called pylons in 2014. The extra tanks, reconnaissance systems and guided weapons for the jet will be mounted on the pylons. The particular challenge here is to integrate the numerous electronic and mechanical components in a way that is both highly aerodynamic and of high strength. The newly awarded series order has a total volume of CHF 80 million and is an impressive demonstration of the Emmen site's increased competitive strength in the international arena.
Everything from a single source, thanks to one-stop-shop solution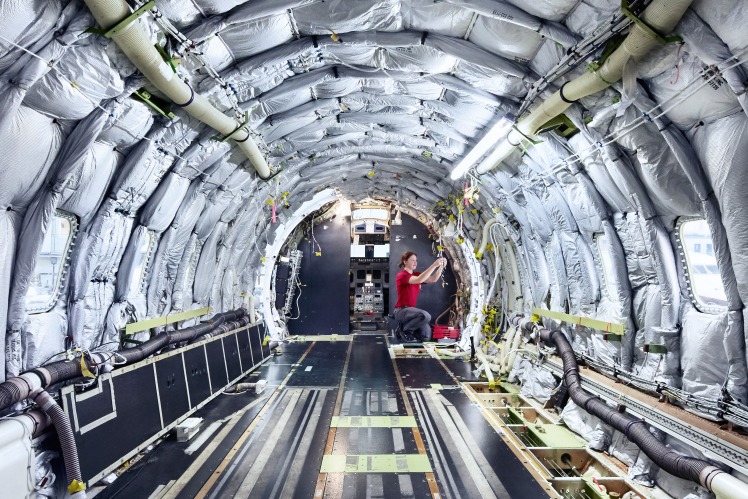 Everything from a single source, thanks to one-stop-shop solution
Broad portfolio of services for business jets
RUAG Aviation in Oberpfaffenhofen successfully completed one of its most challenging projects yet – a combination of an 8C check (ten-year inspection), complete cabin redesign and full paint job. The private owner of the Bombardier Global Express XRS business jet took advantage of the down time required for the compulsory 8C check to also have the air-craft interior completely renovated and for the exterior to be repainted. This integrated one-stop-shop solution allowed the jet's down time to be exploited to the best possible effect, and meant that this complex major project could be realized within just a few weeks while adhering to the highest of quality standards. Constant supervision by the customer-focused project management team ensured that the work of the various specialist teams was optimally coordinated.
Lead-free maximum performance for hunters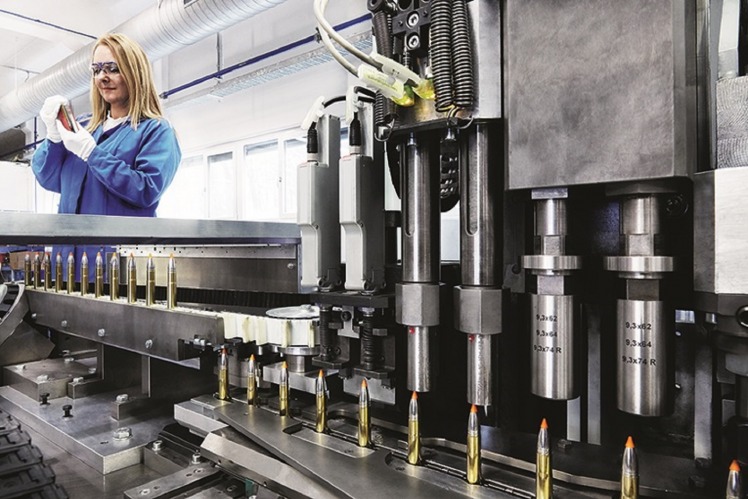 Lead-free maximum performance for hunters
RWS High Impact Technology (HIT)
With the RWS HIT (High Impact Technology), RUAG Ammotec has brought to the market a rifle cartridge with a number of special performance features. The reason for this, among other things, is its specially constructed tip: it contains two hollow chambers, allowing for an extended trajectory paired with high speed and impact energy, while at the same time ensuring a rapid shock effect in the target. This cartridge, which is optimized for medium-sized and stronger game weighing 40 kilograms and over, is lead-free and delivers good instantaneous effectiveness and superior penetration even at long distances. The RWS HIT won the "Trophée Conaissance de la Chasse" at the 2015 Game Fair in France. RUAG is thus continuing its series of successful developments in the hunting ammunition segment.
Success factor: integrated solutions expertise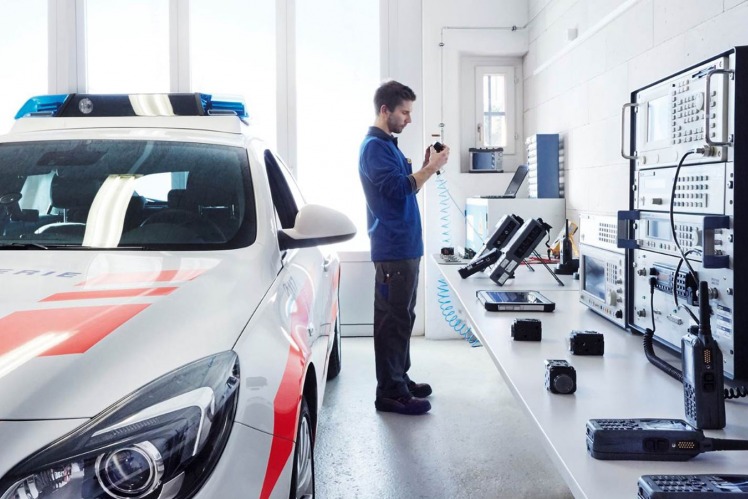 Success factor: integrated solutions expertise
POLYCOM framework agreement
The Defence division was able to conclude a forward-looking framework agreement with the Federal Office for Defence Procurement (armasuisse). The agreement guarantees the sale of over 13,000 POLYCOM handheld radios (TPH-900) between now and 2020. The buyers are the Department of Civil Protection, the Border Guard Corps and other federal organizations. With this contract, the division has put itself in a very good position from which to acquire future work as an integrated solution provider in the civilian and public service sector as well: integration skills are as much a part of its portfolio as profound expertise in the field of network maintenance and device repair. In this area, RUAG Defence is building on its many years of experience with the hundred-plus military command and control, communications, reconnaissance and radar systems used by the Swiss Armed Forces. Furthermore, the Defence division is already working on the challenges of tomorrow, today. Thanks to its extensive expertise in the field of cyber-security, it will continue to provide appropriate support to civilian organizations with complex projects in future.
World-class IT basis for tech innovations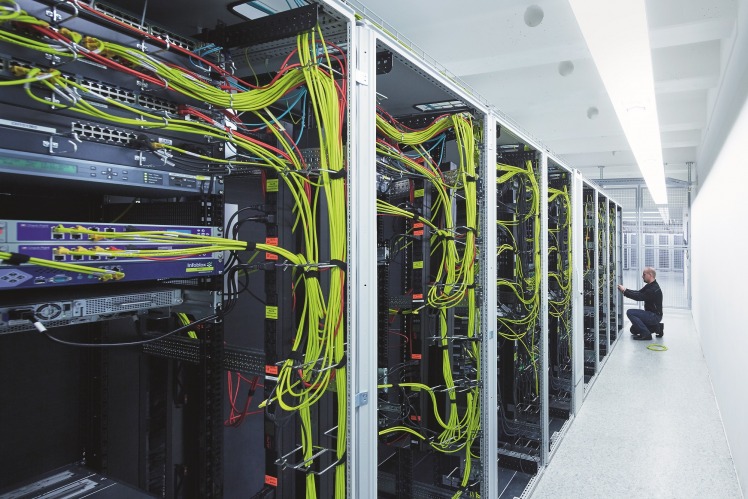 World-class IT basis for tech innovations
RUAG Enterprise Architecture
A better information base for investment decisions and more efficient management of its IT platforms – these are the goals RUAG has been pursuing with its project to establish a uniform IT architecture for the whole Group, launched in late 2014. At the end of 2015, the RUAG Enterprise Architecture inventory already encompassed more than 550 business applications with their business processes, responsibilities, interfaces and master data. As well as a uniform listing of the entire IT portfolio, the relevant people within the divisions and Corporate IT are also developing common governance rules, processes and roles.