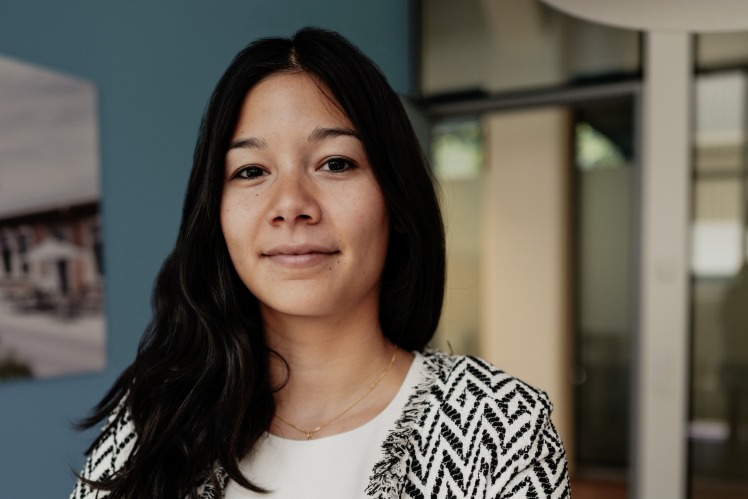 Division: Corporate Services
Location: Zurich-Seebach, Switzerland
Training: Masters in Communication and Media Sciences
I have been working for RUAG since: 11/2018
What brought me to RUAG? 
My previous work had given me a real interest in the engineering industry. I had wanted to start at RUAG especially because of its activities in the aerospace sector.
What I like particularly about my job:
That I am entrusted with interesting tasks and given the independence to tackle them myself. I have a good mix of operative and strategic work.
My biggest highlight so far:
Video and photo shooting with various colleagues for a testimonial film and new image material that I can use now for the design of new flyers, the homepage and our social media channels. I had a lot of fun organizing that day. 
What it is about RUAG that fascinates me:
The team spirit and the working environment. Where else can you get a glimpse of components which will be launched into space? It's fascinating to be in contact with colleagues who contribute to the further exploration and discovery of space and aviation.
What does my typical working day look like?
No two days are the same. You might find me at the RUAG booth at a university fair on one day, another day I am in the office doing my daily business or out visiting agencies. Sometimes I also go to university or college events to present RUAG as an employer to students. 
What development opportunities does RUAG offer?
RUAG encourages anyone who is ambitious and wants to achieve something. There are numerous internal training opportunities and development programmes. One of the really exciting ones is "Discover RUAG", which is an exchange programme where you can collect valuable experiences from colleagues abroad over an extended period. We are represented in 15 countries, so we should utilise opportunities of this kind. 
What makes RUAG an attractive employer for me?
Flexible, independent work is very important to me. At RUAG, I have both, and I am surrounded by exciting and motivated people.
"Let's exceed the expected" means to me:
Achieving big things together as a team and as a company. RUAG contributes, for example, to the flight of aircraft or the launch of rockets and satellites into space. So we can discover more about space and, in turn, improve life here on earth, by simplifying communications or making better weather forecasts, and so on. 
Find your job