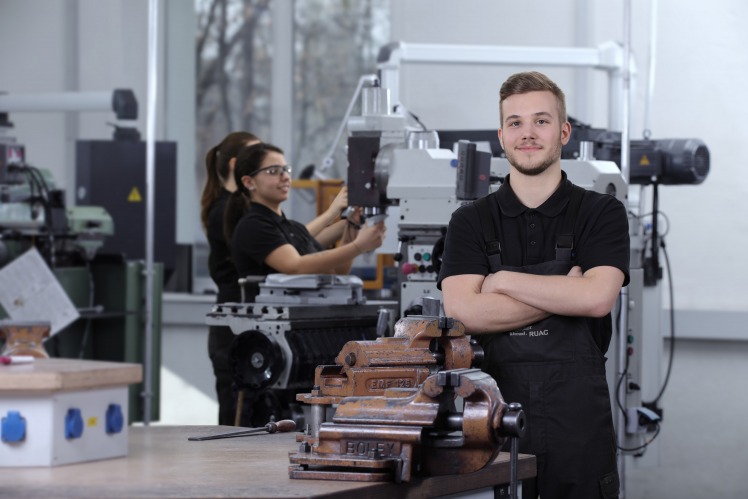 Division: Ammotec
Location: Fürth, Germany
Training: Industrial mechanic
I have been working for RUAG since: 09/2016
What brought me to RUAG?
I was looking for apprenticeship positions online and found RUAG. I hadn't heard of RUAG beforehand.
What do I particularly like about my job?
The best things about my job are the wide variety of tasks and the good working relationship with my colleagues.
My biggest highlight so far?
The activities and projects I carried out with the other RUAG apprenticeships during Vocational Training Week. I also enjoyed the guns project, which lets you decide for yourself the best way to make the individual parts.
What is it about RUAG that fascinates me?
The size and versatility of the company. RUAG is made up of five divisions and operates in three areas – "Land, Air and Space". It is active in a total of 15 different countries and has over 9,000 employees.
What does my typical working day look like?
I usually shadow the specialist staff and their daily working routines. I find and fix faults and also look for what exactly has caused the fault and error messages. Maintaining and repairing systems (e.g. filling up lubricating oils and changing tools) also belong to the daily tasks of a technician.
What development opportunities does RUAG offer?
As I am still in my apprenticeship, I learn something new every single day.
What makes RUAG an attractive employer for me?
I really appreciate the attractive working hours and the good social benefits. With 30 days of annual leave, you also get a good amount of time off work.  In addition, I live close to my place of work, which is another positive aspect of the job for me.
"Let's exceed the expected" means to me:
Always maintaining good lines of communication with colleagues and line managers as well as producing high-quality products.
Find your job