Compliance Verification Engineer for Engine, Engine Control and Propeller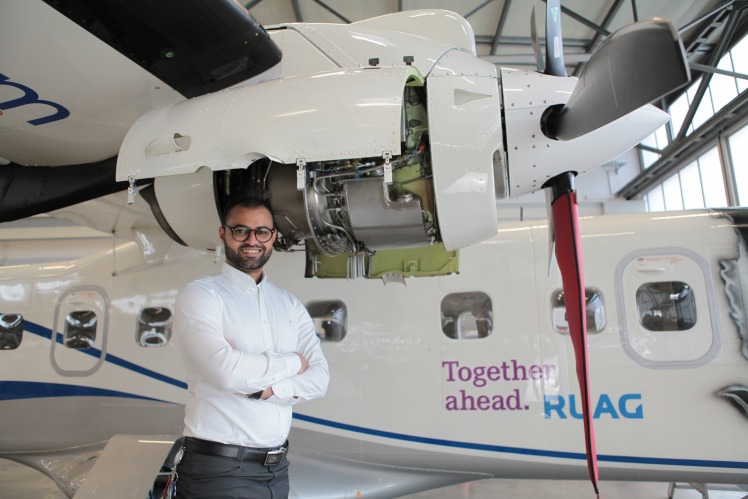 Compliance Verification Engineer for Engine, Engine Control and Propeller
Division: MRO International
Location: Oberpfaffenhofen, Germany
Training: Dip.-Ing. Aircraft engineering
I have been working for RUAG since: 08/2011
What brought me to RUAG:
After my studies in Aircraft Engineering, I was looking for new challenges in the aviation industry. RUAG as an employer was able to offer me this and still does.
What I like particularly about my job: 
The tasks in engineering are fascinating. In the engine department for example: I think about a solution to a problem and implement it. This means that I test it myself either on the ground or in the air, as required, and at the end I create the corresponding documents for the approval. In this process, I work with all departments both inside and outside the engineering department.  
My biggest highlight so far:
Already as a child I was fascinated by aviation and astrophysics. In the course of my career the love for the engine - the heart of the aircraft - has been developed and I did a lot of professional training in various areas and companies. As a RUAG employee, among other things, I completed a tailor-made training at Flight safety in the USA in Wichita, Kansas, where I completely disassembled and inspected the TPE331 engine (-5 & -10) and then reassembled it piece by piece.
What it is about RUAG that fascinates me:
The dynamic work environment. RUAG gives me the opportunity to work in several areas. Not only in the development and design of new aircraft systems, but also in customer support and maintenance.
What does my typical working day look like:
Depending on the requirements, it can go in all directions: for example, AOG (Aircraft on Ground) can occur. This means that the aircraft operator on site is urgently waiting for technical solutions to bring the aircraft back into service. Another task of mine is to perform tests directly on the aircraft. And I create solutions for the mechanical integration of new systems at my desk. In this profession, you can really experience something new every day.
What development opportunities does RUAG offer:
RUAG supports its employees in their further development in order to bring them up to the latest state of the art in international comparison. As a result, you learn more and more! That makes the job varied and exciting. 
What for me makes RUAG an attractive employer:
The opportunity to work in the aviation industry as well as the colleagues and the friendly culture. The positive working environment contributes to a good work-life balance for me.
"Let's exceed the expected" means to me:
Joining forces to pull in one direction. And: To achieve a lot for the company together with the most diverse people and their different skills - under the motto "Together ahead".
Find your Job