Production Planner – Specialized Jigs and Tools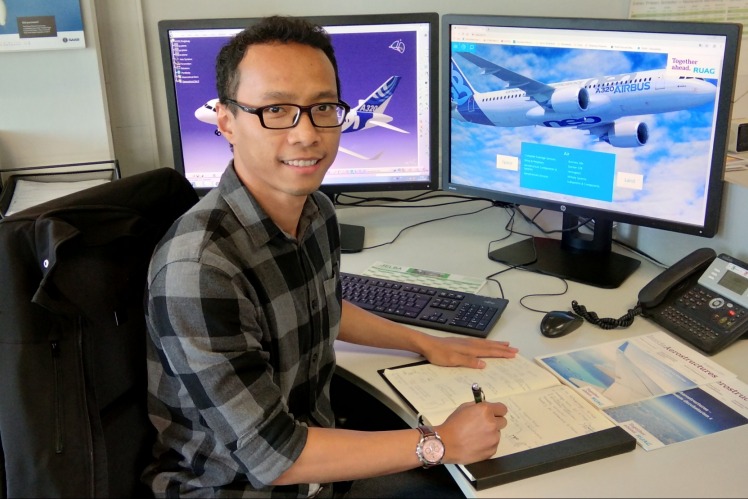 Production Planner – Specialized Jigs and Tools
Division: Aerostructures
Location: Oberpfaffenhofen (Munich), Germany
Education: M.Sc. in Aerospace
I am working for RUAG since: 04/2016
What brought me to RUAG International:
I came to RUAG International few years ago by the time I had to do an internship in the final year of my bachelor study. Since then, I have been working in part-time during my master study in the department of Specialized Jigs and Tools and now I recently started working as Production Planner in the same department.
What I like particularly about my job:
The diverse tasks through which I can refine my expertise, the kind and awesome colleagues, and the fact that I am able to see an airplane everyday.
My biggest highlight so far:
The fact that I could start my career path right after finishing my studies. I am sure, that many more highlights will come along down the road.
What it is about RUAG International that fascinates me:
Optimization of the production line using automatized technologies, it is like seeing how the future might look like.
What does my typical working day look like:
I guess, there is no any typical day, at least for me, since I encounter various tasks and projects that challenge me in different yet flexible way everyday.
What development opportunities does RUAG International offer:
Possibilities for me not only to learn the theoretical basis during my previous study but also to apply it to practical experience. And quoting the motto "Together ahead", RUAG International encourages all its employees to strive for the better future through their personal development according to their interest and expertise.
What for me makes RUAG International an attractive employer:  
The diversity of career opportunities as well as the possibilities to find and learn something new and even more challenging through internal programs.
"Let's exceed the expected" means to me:
To always reach a valuable step further, where not only satisfaction is achieved but also proudness.
Find your job