Understand. Act. Protect. The RUAG Cyber Circle.
RUAG Cyber Security stands for continuous and comprehensive security approach. The RUAG Cyber Circle will help to better understand all necessary aspects of Cyber Security, in order to take effective actions and be ready to respond to cyber incidents....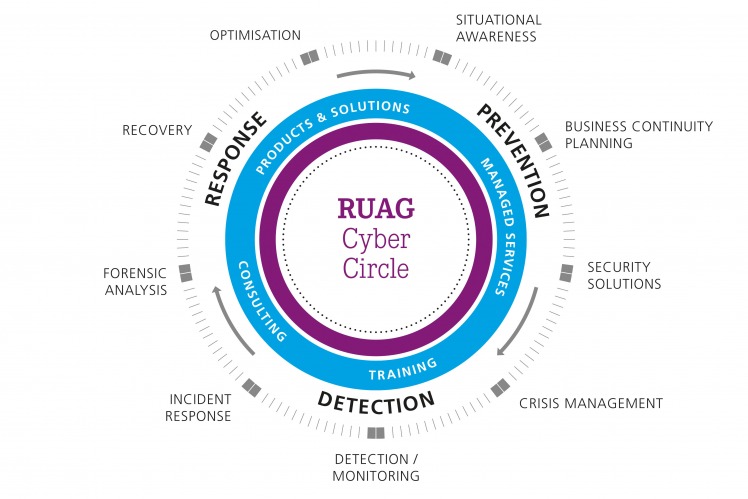 We are your trusted partner during all phases of cyber threats. We will support you to take the right decisions to minimise your vulnerabilities and help you in case of incidents, to rapidly recover and come back to normal operations. You will be able to rely on our experience. A promise you can trust.
Prevention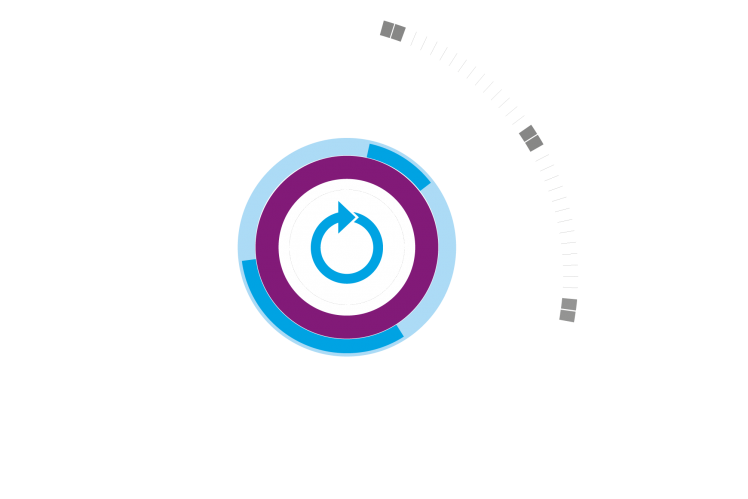 Find out the critical points of your business and understand the threats that you face. This is the only way to boost the security and resilience of your organisation over the long term.
We help you to understand what cyber attacks are, implement a protection solution tailored to your company and provide recurring and effective training to your staff.
Situational Awareness
Find out the areas in which you are at risk and your readiness capability in the area of cyber security. Situational awareness illustrates the current level of threat to which your company is exposed. Through this service, you will receive a confirmation of your defensive capabilities and you can arrange for the requisite protective measures to be put in place. Only by knowing your strengths and weaknesses can you initiate the appropriate response and take the correct measures.
Business Continuity Planning
Business Continuity Planning means anticipating unforeseeable events so that you can react to them in a professional manner in a worst-case scenario.
Customised Security Solutions
Our experts identify and assess internal and external threats to your business activities and develop solutions tailored to your company, offering protection to all of your business processes – you will receive exactly the protection that your company requires.
Detection
Thanks to professional support in crisis situations, you can quickly and effectively fend off cyber attacks. Effective detection allows you to identify attacks at an early stage.
We help you to detect at an early stage whether an attack will have a negative effect on your business activities.
Crisis Management
We support you in the definition and application of the emergency strategy and crisis management process. In addition in our training center crisis simulations can be created for the C-Level Executives and a full assessment of the exercise is given, with advices on how to improve the decisions and actions processes.
Detection / Monitoring
Our solutions allow an early detection of the disturbances and cyber-attacks by analyzing the network traffic data and numerous other different data sources collected. Our solutions provide robust rules for analysis and generate alerts and reports consistent with the threat situation. By conducting vulnerability scan and pen test we can detect the weak points in your network and then advice you in the actions to be taken.
Incident Response
Our offer consists in supporting, preparing and accompanying you in cyber-incidents handling. This could be done through cyber-training but also by giving you the needed support in identifying the root causes and in putting in place the emergency measures.
Response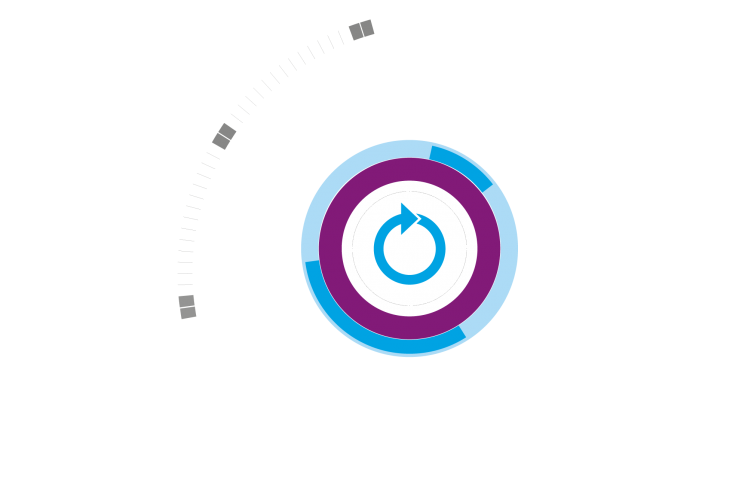 Carefully simulated cyber attacks help your company to increase its security standard and ensure that regular business activities can be resumed within a short time frame. Secure evidence and understand what has happened.
We help you to determine the scale of a cyber attack and initiate measures to enable your company to get back to full performance.
Forensic Analysis
A forensic analysis allows you to identify the causes and effects of a successful attack. Recognised methods are used to secure a chain of evidence that can be used in court and to provide the customer with a forensic report. In such a report, you will receive key information on the scale of an individual cyber incident as well as on the improper use of your IT systems. An additional generator of added value is that the report also shows you where your security needs to be increased.
Recovery
Through the use of customer-specific solutions and services for incident response systems, we support you in clean-up operations and the speedy return to full performance. These measures can help to minimise the amount of costly downtime and resume business activities.
Optimisation
Based on the identified weaknesses, we help you to boost your cyber security in the long term and equip your company to deal with future cyber incidents. You will receive a cyber security masterplan which details the requisite technical and organisational measures required.