Building Equipment
As realistic as it gets.
Trust our building and infrastructure equipment for Live Training Systems. ...
Increasingly, your defence and security forces are facing armed confrontation in urban environments threatening mission success as well as local populations. Preparing for these challenges with specialized tactical training and methods is crucial to be prepared to saving lives and preserving assets.
Enhance your Live, force-on-force training systems with our building and infrastructure equipment. Heighten operational readiness, hone skills and train safely in highly realistic environment to ensure precision performance and coordinated approaches that save lives in the challenging and shifting environments of Military Operations in Urban Terrain (MOUT).
Our proven and reliable building and infrastructure equipment for Live training systems is based on a real-time network of laser-based simulation components that are easy to deploy. Highly customizable to your training goals, our equipment allows you to create demanding, complex scenarios, train and evaluate your team's reaction and response tactics, and test your armored vehicle for weapons accuracy. Modular, convenient and cost-efficient, you decide on the level of training fidelity your team needs to improve mission success. Connected with the system's interactive supervision platform, results are measured and recorded to analyze and improve training results.
Live training with building and infrastructure equipment ensures real combat scenarios at highest levels of training fidelity. Instrumentation supporting Live simulation MOUT exercises is straightforward. Buildings are equipped with one-way and two-way laser sensor and decoder units, both fixed and mobile, featuring indoor,  outdoor, mobile and thermal cameras, area infrared beacons and detection radar for registering your personnel and their positioning, exterior sensors for simulating direct hits and response fire, and sensory, visual and acoustic effects display device, for smoke and fog generators, acoustic signals and sirens, and light effects. Learn to detect or jam possible Improvised Explosive Device (IED) attacks with our explosive simulation devices.
The full selection of building and infrastructure equipment is coded from compatibility with NATO systems. Modular components include:
Building sensor module
Area infrared beacon
Indoor camera
Outdoor camera
Fog machine
Effects display device (Sound and light effects, sounds of battle)
Mobile camera (day)
Thermal camera (night)
Mobile evaluation system for infantry operations (MASIE)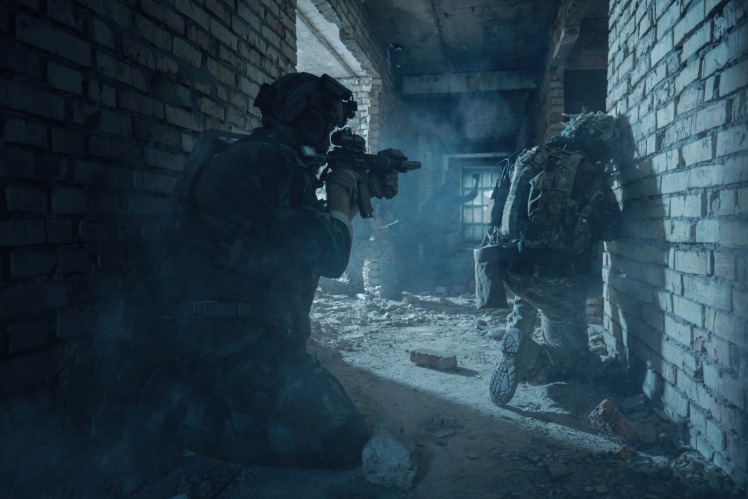 The world is changing and the demands on the armed forces are constantly changing. Combat forces must always be prepared to perform challenging combat missions in all regions. Effective training under the most realistic conditions possible is crucial for mission success.
The live training solutions from RUAG enable realistic training - from individual training to team training to the training of entire units. Our systems support the improvement of individual skills and increase the team spirit of the combat troops. RUAG supplies complete live simulation platforms for training in built-up areas: The buildings are equipped with fixed and mobile sensors and effects. Thus, various complex combat scenarios can be simulated and can be evaluated.
Components for a realistic training
The instrumentation of buildings by the MASIE system enables the representation of extremely realistic situations in urban and domestic combat and prepares the soldiers for the optimally for the application. In addition to beacons, which are used to detect the position of soldiers inside buildings, MASIE also consists of facade sensors for direct Firing simulation of buildings by battle tanks, infantry fighting vehicles and infantry weapons of all kinds. To transmit the course of the battle, the buildings are equipped with exterior and Interior equipped with audio and video components. Additionally special Audio, video and fog generators for the most realistic simulation of the Battlefield through smoke, fog and light effects.
Decisive for mission success
The most realistic possible training of the most varied application scenarios ensures that the troops are optimally prepared for the constantly changing combat requirements. Because well-trained combat troops are crucial to the success of a mission.
More information about MASIE