Weapon Equipment
As realistic as it gets.
Trust our Weapon Equipment....
Precision performance in active conflict scenarios is essential for saving lives and achieving mission success. Ensure your defence and security forces react and respond with accuracy when deploying their tactical weaponry. Ensuring a consistent level of mission readiness requires rigorous training with the realities of tactical scenarios.
Essential to effective Live training systems, our highest fidelity Weapon Equipment ensures safe training on a diverse range of weaponry, from small arms to large-caliber weapons. The touch and feel of the training equipment, as well as the velocity and ballistic trajectories are based on the original weaponry. Fully customizable to your training goals, you control the level of integration as well as your budget. Especially when integrated within our modular Gladiator Live Training Systems, supporting individuals, units and even brigades.
Our interoperable Weapon Equipment is easy to integrate and deploy within your Live training system. When a combatant fires a heavy weapon, two-way laser units decode the hit and signal a direct response. Laser units attach directly to the full range of real weaponry your forces deploy, allowing your teams to enhance their first-hand experience of weaponry behaviors, handling, back blast, weight, balance and ballistic characteristics, while training effectively under authentic battle conditions.
The Gladiator Weapon Equipment assures connectivity for real-time viewing and automatic pairing with Near Field Communication (NFC). The system recognizes a wounded or injured soldier and automatically disactivates his participation on the training. Our Weapon Equipment connects to the local training system network to enable data transmission between within the different components. Connected with the system's interactive supervision platform, you can monitor, record and analyze the full exercise.
MASIE
Mobile evaluation system for infantry operations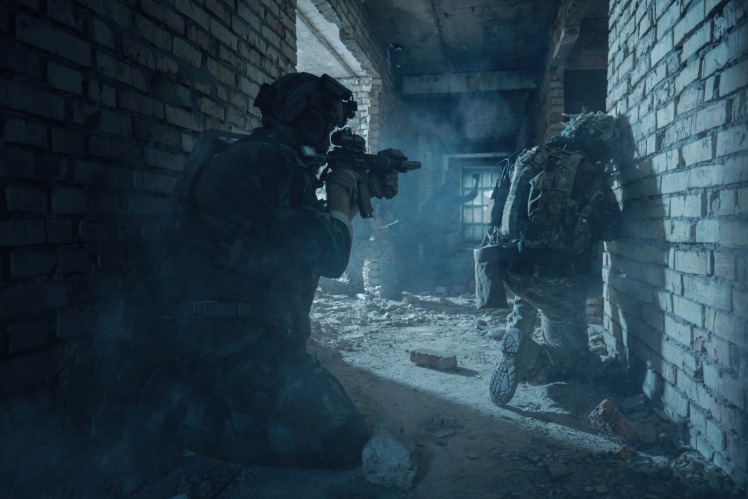 Mobile evaluation system for infantry operations
The world is changing and the demands on the armed forces are constantly changing. Combat forces must always be prepared to perform challenging combat missions in all regions. Effective training under the most realistic conditions possible is crucial for mission success.
The live training solutions from RUAG enable realistic training - from individual training to team training to the training of entire units. Our systems support the improvement of individual skills and increase the team spirit of the combat troops. RUAG supplies complete live simulation platforms for training in built-up areas: The buildings are equipped with fixed and mobile sensors and effects. Thus, various complex combat scenarios can be simulated and can be evaluated.
Components for a realistic training
The instrumentation of buildings by the MASIE system enables the representation of extremely realistic situations in urban and domestic combat and prepares the soldiers for the optimally for the application. In addition to beacons, which are used to detect the position of soldiers inside buildings, MASIE also consists of facade sensors for direct Firing simulation of buildings by battle tanks, infantry fighting vehicles and infantry weapons of all kinds. To transmit the course of the battle, the buildings are equipped with exterior and Interior equipped with audio and video components. Additionally special Audio, video and fog generators for the most realistic simulation of the Battlefield through smoke, fog and light effects.
Decisive for mission success
The most realistic possible training of the most varied application scenarios ensures that the troops are optimally prepared for the constantly changing combat requirements. Because well-trained combat troops are crucial to the success of a mission.
More information about MASIE
Publications for Download