Small Arms Trainers
As realistic as it gets.
Trust our indoor, Small Arms Virtual Simulation & Training Solutions....
Dynamic firearms training is crucial for your tactical teams for honing instincts, movements and skill sets. Rely on our safe and cost-efficient, indoor, small arms Virtual simulators for accurate firearms training.
With highly realistic behaviors and functions our Small Arm Trainers safely train your personnel. Before they operate in live scenarios, your crews have already experienced the physical reality of ballistic firing power, learned to operate fast and effectively in challenging terrains and urban environments, and been on the receiving end of weapon recoil.
The state-of-the-art technology supports small arms training scenarios that are customizable to your training goals and scenarios, cost-efficient and reliable. Fixed Virtual simulation installations enable training at both individual and collective levels in support of your efforts to ensure mission readiness and accurate performance. Indoor shooting ranges feature the full portfolio of tethered and tetherless weaponry for instruction at basic skills levels and up to advanced proficiency. Our shooting cinemas support small arms operators in improving marksmanship, handling, and shooting procedures. Precision measurement devices enable instructors to monitor and analyze accuracy and performance, including firing position, aiming, cant, cast and pitch, shots, and trigger pressure. Including monitoring, data transmission and after-action review (AAR), our small arms Virtual trainers empower to improve efficiency, accuracy, dispersion, reaction time, and more. It enables also to hone decision-making and coordination competencies.
Assuring system readiness, our customer support ensures optimal equipment performance, before, during and after your trainings, including replacement and spare parts, and maintenance, repair and overhaul (MRO).
SITTAL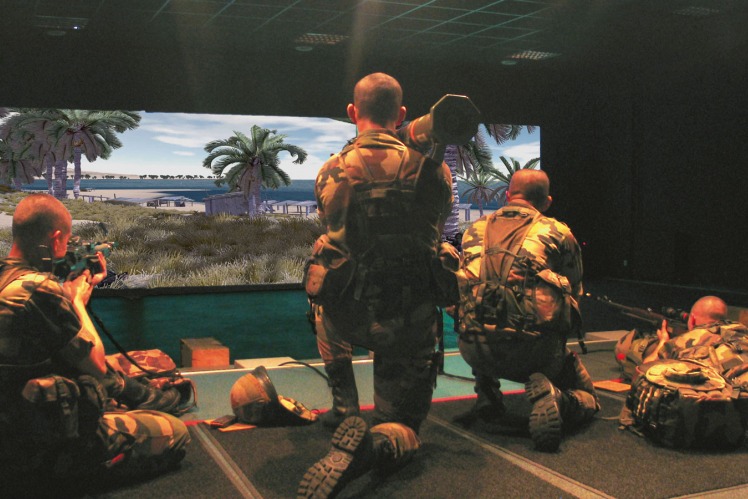 SITTAL is a professional simulator for classroom shooting (indoor) dedicated to the training of small arms operators at the individual and collective levels. SITTAL is the shooting simulator widely used by French Forces for initial and refresher training.
SITTAL provides a solution to the need for more intense training by:
Improved realism (artificial intelligence, special effects, environment)

Fire precision and speed (double tap)

Multiple sensing of weapons status

Compatible with tetherless and tethered weapons

From 5,56 to 20mm calibres

Optical sights wired or wireless

Observation googles wired or wireless
The use of different weapons and the mastery of technique in complex situation requires shooters to assimilate precise movement patterns and individual as well as collective procedures which can only be acquired by manipulation and repetition.
SITTAL answers this need perfectly. It places shooters in realistic conditions while taking into account weapons' ballistic characteristics, without limits on ammunition, and without deterioration of the weapons and no risk for the personnel.
SITTAL allows to conduct the following firing sequences:
Progressive

Alternating between execution and correction

Repetitive

Results-controlled (assessment)
SITTAL offers:
Highly realistic 3D worlds offering a wide variety of environments (semi-desert, desert, urban, or other)

Combat-relevant situations and scenarios, and total interactivity with the entities

from the scenario (behaviours are controlled by artificial intelligence)

Instructor role optimization (simultaneous and real time following of different

parameters of the shooting sequence, aid and evaluation of the shooters actions)
SITTAL is available:
As a stationary installation version with a 5 to 10 shooters capacity: the trainees move to the simulator facility

As a compact moving version with a 5 shooters capacity: it is the simulator that moves to the trainees without the need of a dedicated extensive infrastructure
More information about SITTAL
SOTA
SOTA (Artillery and Mortars Fires Observation Simulator)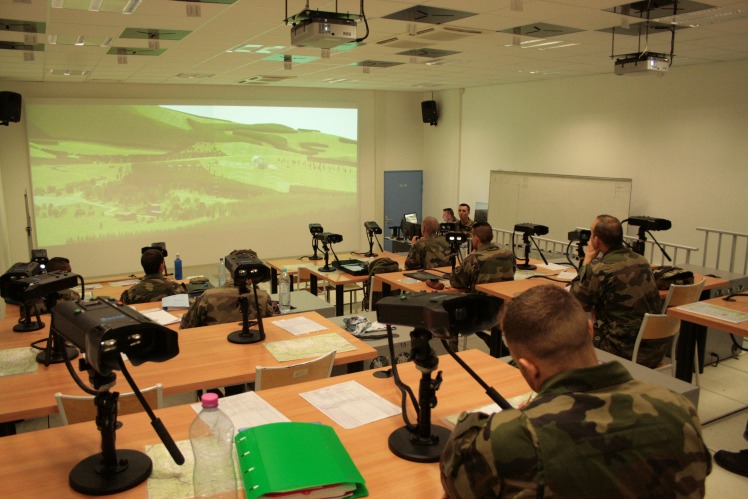 SOTA (Artillery and Mortars Fires Observation Simulator)
Providing training and practice for forward observers. Acquiring, maintaining and improving procedures for the control and application of artillery fires by all-arms artillery observation crews and forward observers.
Installed in a room, the simulator immerses the trainees in a very realistic battlefield environment with:
200 to 300 km² areas representing accurately modelled geo-typical or real terrains (customer's choice) and infinite visibility and weather conditions setup

Fires and destruction effects

The creation of a soundscape reproducing the battlefield sounds

The GUI adapted to the language of the user

Observation/telemetry and processing shots simulated means reproducing the observers operational equipment

A CGF (Computer Generated Forces) for tactical simulation and animation of the battlefield (artificial intelligence)
The simulator is composed of:
Crew stations (up to 6)

An instructor station

Collective display (video-projection) and sound reproduction (stereo) devices
Role Player Station
Multi-role support simulator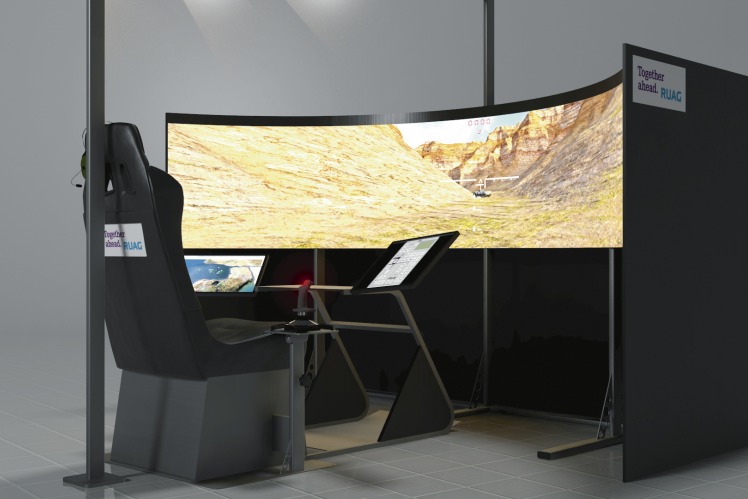 Multi-role support simulator
The Role Player Station by RUAG MRO Switzerland is a multi-role simulator that supports and expands the capabilities of simulation systems.
It consists of a generic environment with immersive projection screen for 3D sights, a seat and touch-screen monitors for the scenario interaction and communication system. It is easily deployable and can be linked for combined tactical exercises into simulation systems using open interfaces (DIS/HLA) and uses the standards of the simulation industry. The same station can be configured in very short time to serve different roles. It relies on the flexibility of the RUAG Virtual Arena platform and therefore can simulate a large set of possible land and air assets in the scenarios. The Role Player Station can play the roles, as instance, of opponents, civilians or support forces. A main 2D/3D map with an intuitive touch-interface allows the realistic tactical control of associated simulated units (Computer Generated Forces).
More Information