Satellite Structures
RUAG Space is the leading European supplier of lightweight structures. The experience we have gained in more than four decades of space activities enables us to make our space and non-space customers more competitive....
RUAG Space designs, manufactures, assembles and tests high precision and dimensionally stable satellite structures. These satellite structures can be used as satellite backbone, or as an instrument platform for mounting optical or other instruments.
With our involvement in more than 50 missions over the past 40 years RUAG Space is able to provide to customers a satellite dedicated for a specific mission as well as structures for constellation with a manufacturing rate of three per day. By tapping into RUAG's standard product portfolio customers save time and money compared to engineering it from scratch.
RUAG's customers demand a high degree of flexibility as a result of changes in the specifications that often occur in a late stage of the project. With the design, manufacturing and test all on one site, RUAG Space has short communication lines and is able to implement these changes to meet the customer request.
SUCCESS STORY
Automation for Satellite Structures
RUAG Space will be manufacturing structures for 40 satellites every month on average in its 2017 opened new facility in Titusville (Florida) in the United States. Important work steps – such as fitting the inserts used to fix equipment in place – are automated.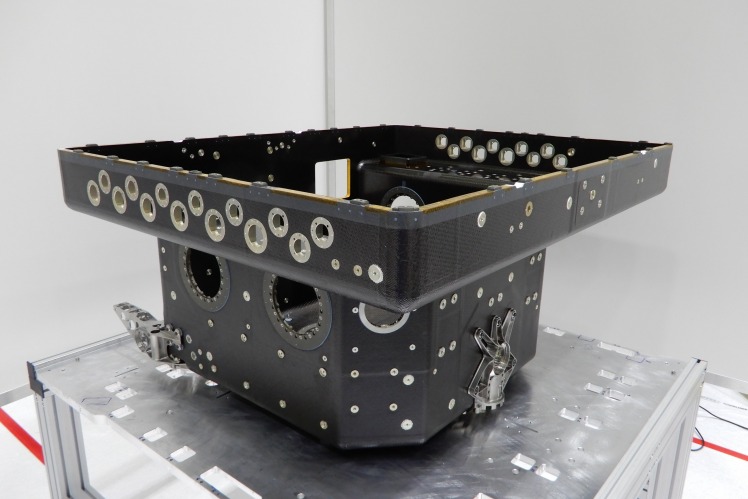 RUAG Space delivered two central structures for Mars mission
For ExoMars, two structures have been delivered in 2018: the so-called Mars Rover Bathtub - a structure that will form part of the chassis of the Mars Rover in the ExoMars 2020 mission. For the transport module of the Mars Rover, RUAG Space produced the central structure.
Read more