Gladiator Modular Tactical Vehicle Live Training Equipment
Saving lives. With effective, realistic training. ...
Your mechanized infantry units and armored fighting vehicles, are crucial strategic assets, and key to your mission success. Ensuring readiness and top performance in both military exercises and true combat situations requires reliable, effective, and realistic training for your personnel and the vehicles they operate. 
Our proven, Gladiator Live Simulation Vehicle Equipment solutions are the optimal choice for matching your training goals with a highly realistic environment. Modular by design, and interoperable with international standards, you and your team are able to tailor the Gladiator Live Simulation Vehicle Equipment to your own training expectations. Your units train safely and at the highest quality available while also keeping within your given budgetary guidelines.
Selecting quality and know-how at every level of training fidelity
Success in modern, mechanized combat environments requires highly realistic training – training fidelity – for the mechanized infantry units and their armored fighting vehicles. Creating real combat scenarios where actual vehicles are used in live simulation is crucial, preparing units and their commanders reliably and effectively. Gladiator Live Simulation Vehicle Equipment is based on this approach to high quality, high training fidelity. Yet, the Gladiator system remains cost-efficient due to its modular design. 
Integrate and regulate centrally
Gladiator Vehicle Control Equipment components, the central command of your live simulation system, track your simulated exercises from planning through to the final review. Vehicle system components attach directly to your mechanized and armored vehicles, measuring results as your units operate and fire on specified locations in out-bound and fire-and-forget simulation scenarios. 
Hit sensor equipment for feedback and flexibility
Your training fidelity relies on access to real-time feedback so your units can respond and perform effectively. Gladiator Vehicle Sensor Unit equipment is attached to target infrastructure. It simulates the effect of ballistics on the targets and activates Effect Indication Equipment devices. Overall affordability is improved by the easy retrofit to existing one-way sensors to achieve two-way training fidelity. Equipment for achieving two-way training fidelity include the Sensor Unit (cable based or in wireless variant) and Sensor-Reflector Unit.
Enhancing sensory feedback improves training fidelity
Gladiator Vehicle Equipment provides you with the option of ramping up training fidelity with sensory response modules to live, see, and feel the effect of success. What better way is there of knowing if a simulated firing exchange has been successful, than to see the flash of light or the smoke where the incendiary ammunition hit, or even to follow the tail of the tracer making its way towards its mark? Straightforward and interoperable with existing simulation equipment, these Gladiator Vehicle Equipment modular upgrades enhance your training experience, yet still ensure you have the flexibility you need to remain within your budgetary guidelines. 
Gladiator Vehicle Equipment Control Unit
Plan, track and assess live vehicle tactical training in real time.
Highest quality at highest training fidelity in live vehicle simulation relies on a continuous flow of accurate information throughout a simulation system, in real time, and for the duration of the training, up to and including the after-action review (AAR). Gladiator Vehicle Equipment Control Unit from RUAG is the programmable central command for managing and tracking the modular components that comprise your live simulation training systems for mechanized infantry and armored vehicle units. Featuring real-time data assessment, precise and timely feedback, and graphical interpretation, Gladiator's Vehicle Equipment Control Unit sends and receives event data to enable full training in tactical planning, decision making, and combat response.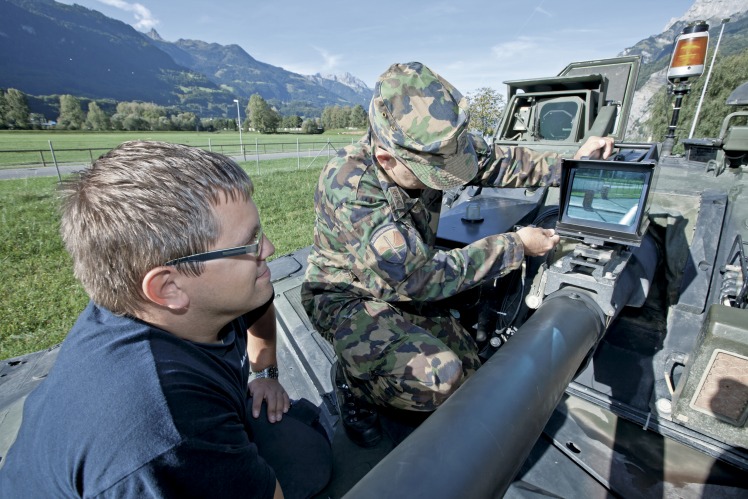 Central command component for live simulation training
The Gladiator Vehicle Equipment Control Unit is essential to an integrated live simulation system, delivering high quality training and performance assessment in complex vehicle simulation scenarios. Ensuring both safe and secure operations, and optimized for operation in military vehicle environment, the Control Unit acts as the user interface for defining the simulator's operational mode.
It successfully facilitates real-time data from all modular system components at any given level of training fidelity, from low to highest. Straightforward and reliable configuration of simulator relevant parameters – Standard configuration features pre-installed Control Unit software applications – Default configuration defined according to customer's requested vehicle types – Access to service layer restricted to service personnel, with option to include USB-Key – Determine, select, and apply customer-specific parameters for chosen level of training fidelity (from low to highest) – Full interface to each simulation component on each vehicle and target – Display and track simulator's current status throughout the exercise – Interoperability with international standards.
Effect Indication Unit – Sound & Light
Realistic simulation of the sights & sounds of direct ballistic hits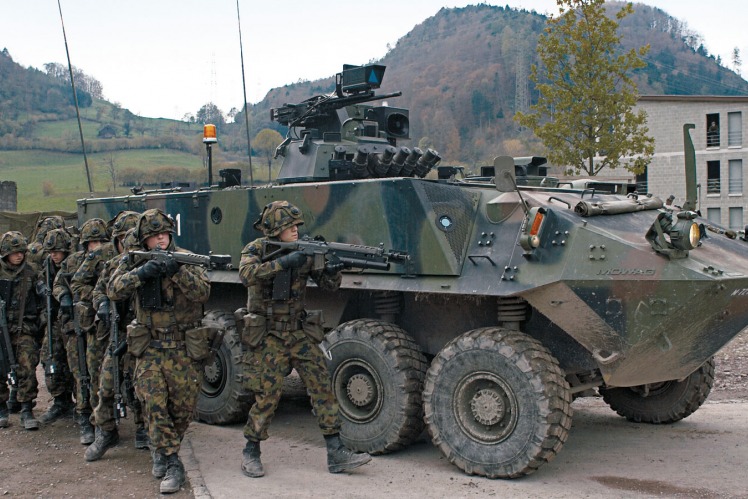 Realistic simulation of the sights & sounds of direct ballistic hits
Prepare your mechanized infantry and armored vehicle forces for the reality of the sights and sounds of real combat in a safe yet highly realistic environment. Including Gladiator Vehicle Equipment Effect Indication Unit – Sound & Light from RUAG in your live vehicle simulation systems ensures a very high level of training fidelity so your combat personnel are optimally prepared for what they will experience in live action. Integration is straightforward with stand-alone, mounted components used in conjunction with the Gladiator Vehicle Equipment Sensor-Reflector Unit.