Adapters & Separation Systems
RUAG Space is the world leader for payload adapters and separation systems used on commercial launch vehicles. Our separation systems ensure that satellite and rocket remain securely attached to one another during the tough journey into space, and then deliver the valuable payloads into orbit with precision. Around 1000 separations have been carried out in orbit using RUAG systems, with a 100 percent success rate....
Compatible with virtually any launcher/satellite combination
Modular adapters from RUAG Space enable compatibility with almost any satellites on the market to any launcher. RUAG Space is supplier to Ariane, Atlas, Delta, Land Launch, Proton, Sea Launch, Soyuz and Antares launchers.
We offer a broad spectrum of Payload Adapter Systems compatible with most satellite buses used in the world today. Our services include support to our customer through all program phases up to the successful separation of the satellite in orbit. The Payload Adapters are tailored to customers' needs and manufactured out of aluminum or carbon fiber composite technologies to impressive performance.
Low shock separation systems with outstanding flight record
RUAG Space separation systems keep satellites safely attached to their launchers during the tough journey to orbit and then with precision delivers the precious payload in orbit with the specified relative velocity, potential spin or transverse spin.
RUAG offers standard systems and dedicated system for special applications like in-orbit separation of return-to-earth capsules. RUAG Space offers clamp-band as well as hard point separation systems. The RUAG low-shock clamp-band separation system is the industry standard for any payload.
Our Payload Adapter Systems have an outstanding flight record. To date (summer 2021) around 1000 in-orbit separations have been carried out with a success rate of 100 %. This gives launch vehicle operators and satellite builders/operators confidence when planning for future missions together with us. 
CAD MODELS
CAD-models on our small payload adapters, PAS 381S and PAS 610S, can be made available upon request. Please notify the contact below in this matter.
200+ OneWeb satellites placed in orbit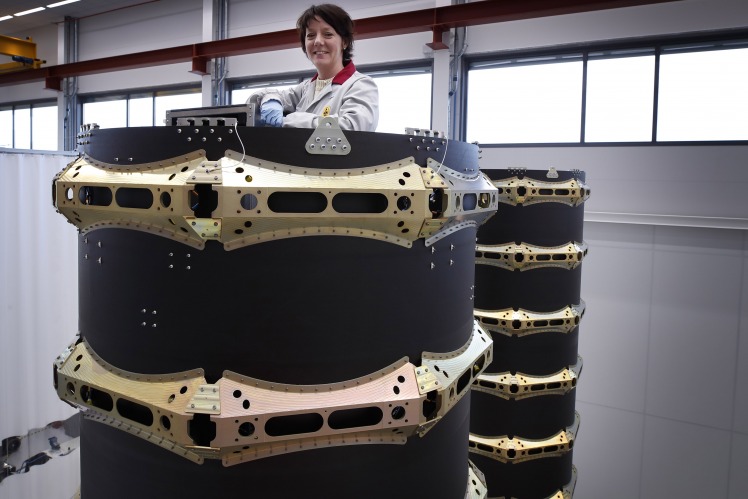 200+ OneWeb satellites placed in orbit
Our dispenser successfully placed more than 200 OneWeb broadband satellites in orbit. As a key supplier to Airbus OneWeb Satellites, RUAG Space built the satellite dispenser, which functions as an interface between the rocket and the satellites. Our dispenser can deposit up to 36 satellites safely into space.